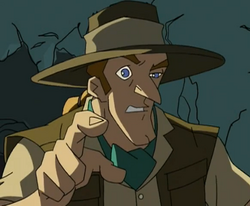 Wesley Rank is a pseudo-archaeologist who hosts a reality TV show that depicts his scripted expeditions around the world.
He has an obnoxiously egotistic personality, and he didn't even care to film the more authentic adventure of Jackie Chan, who was trying to retrieve the Snake Talisman from a lost temple.
Appearances
Season 2
Ad blocker interference detected!
Wikia is a free-to-use site that makes money from advertising. We have a modified experience for viewers using ad blockers

Wikia is not accessible if you've made further modifications. Remove the custom ad blocker rule(s) and the page will load as expected.