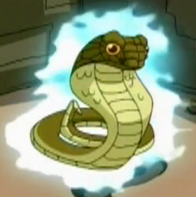 The Snake is the Noble Snake in one of the twelve Noble Animals.
The Chans found it with the power of invisibility in an Indian bazaar. The snake laid an egg where the power of the snake talisman was passed down to her baby. Tohru's mother dipped the egg to her tea to relieve her headache, causing her to turn invisible. After the hatched cobra was collected by the Chans, Uncle concocted a spell to make Tohru's mother visible again.
Appearance
Season 3
Ad blocker interference detected!
Wikia is a free-to-use site that makes money from advertising. We have a modified experience for viewers using ad blockers

Wikia is not accessible if you've made further modifications. Remove the custom ad blocker rule(s) and the page will load as expected.