Home
Talk

5
380pages on
this wiki
Featured Article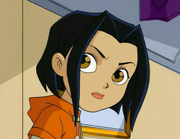 Jade Chan is one of the main characters in the Jackie Chan Adventures series. Despite being cute and tomboyishly beautiful, Jade is adventurous, stubborn and impulsive, almost always disobeying Jackie's advice to remain in safety since she prefers to accompany him to see him fight; thus she gets into - or even causes - a lot of mischief. Just as often, however, her impulsiveness, quick mind and flexible thinking helps save the day in situations where Jackie's moderate thinking and sometimes exaggerated caution prove a definite hindrance.

Main Article: Jade Chan
About Jackie Chan Adventures
Jackie Chan Adventures is an American animated television series chronicling the adventures of a fictionalized version of action film star Jackie Chan. There are numerous references to Jackie Chan's films and his own life throughout the series. The series ran on Kids' WB! from September 9, 2000 to July 8, 2005 for a total of 95 episodes and 5 seasons. It was also shown on Cartoon Network and Disney XD. Books, comics, and two video games were released to accompany the series. Its main character designer is Jeff Matsuda.
Poll
Who is your favorite member of the J-Team?
Did You Know?
"Yu Mo Gui Gwai Fai Di Zao" is the main good chi spell incantation used by Uncle. Translated literally, the incantation is Cantonese for "Ghosts and goblins quickly leave" (妖魔鬼怪快啲走).
Blogs
Create blog post
Latest Posts
TO ALL MEMBERS:

A week ago, I wrote a blog post concerning the current administration on this wiki. While no one has responded, it is still vital to t…

Read more >

Is anyone currently involved with this site an admin? If not, do you know of any admins who have been recently active? I would like to speak with the…

Read more >
See more >
About this Wiki
Jackie Chan Adventures Wiki was created on June 15, 2008 by User:Avatar Sanders. It was adopted on September 12, 2014 by User:ShonenChicoBoy. Currently, it has more than 380 pages, 1,000 images, 10,000 page edits, and 85 authenticated users.