Home
Talk

5
377pages on
this wiki

Welcome to The Jackie Chan Adventures Wiki.
We are currently editing over 377 articles, and you can help.

Featured Article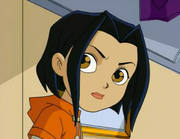 Jade Chan is one of the main characters in the Jackie Chan Adventures series. Despite being cute and tomboyishly beautiful, Jade is adventurous, stubborn and impulsive, almost always disobeying Jackie's advice to remain in safety since she prefers to accompany him to see him fight; thus she gets into - or even causes - a lot of mischief. Just as often, however, her impulsiveness, quick mind and flexible thinking helps save the day in situations where Jackie's moderate thinking and sometimes exaggerated caution prove a definite hindrance.

Main Article: Jade Chan
Create a Jackie Chan Adeventures Article!
Hello and welcome to the Jackie Chan Adventures Wiki. This wiki covers every aspect imaginable about Jackie Chan Adventures. If you know anything about the show, please feel free to add it on here. To find a particular page, see Allpages for an index of every page on this wiki. Or, to write a new Jackie Chan Adventures Wiki article, enter the page title in the box below and click "Create Article".
New on Jackie Chan Adventures Wiki
Help write articles about character, episodes, objects, and more!
Help is also needed in templates. Is there anyone who knows how to create them?