Featured Article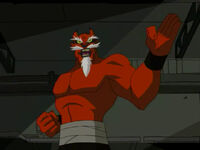 Tarakudo is the King of the Shadowkhan and lord of all Oni. He is one of the primary antagonists in the Jackie Chan Adventures series. Tarakudo wishes to revive his loyal Oni Generals who were sealed away into the Oni Masks hundreds of years ago. While originally uninterested in Jackie Chan and his allies, their repeated interference in Tarakudo's plans causes him to become their bitter enemy.

Main Article: Tarakudo
Did You Know?
Mung Beans are small green beans that are native to the Indian subcontinent, but they can be found all over China, Southeast Asia, and the Southern United States. They are used as an ingredient in many tasty dishes, both sweet and savory, and are valued for their high nutritional quality. Mung beans are high in vitamins A, B, C and E, and minerals like calcium, iron, magnesium and potassium. They also contain a good amount of fiber and protein, which can reduce the risk of heart disease. They are best enjoyed as fresh sprouts, although Uncle prefers to eat them in a sandwich.
About Jackie Chan Adventures
Jackie Chan Adventures is an American animated television series chronicling the adventures of a fictionalized version of action film star Jackie Chan. There are numerous references to Jackie Chan's films and his own life throughout the series. The series ran on Kids' WB! from September 9, 2000 to July 8, 2005 for a total of 95 episodes and 5 seasons. It was also shown on Cartoon Network and Disney XD. Books, comics, and two video games were released to accompany the series. Its main character designer is Jeff Matsuda.
About this Wiki
Jackie Chan Adventures Wiki was created on June 15, 2008 by User:Avatar Sanders. It was adopted on September 12, 2014 by User:ShonenChicoBoy. Currently, it has more than 380 pages, 1,000 images, 10,000 page edits, and 85 authenticated users.
Poll
What is your favorite Talisman?
Blogs
Create blog post
Latest Posts
So I'm having a binge watch of the episodes.




Season 1, fine




Season 2 ep 1, shendu possesses val mont and it ends on a cliff hanger




Season 2 ep 2, now sh…

Read more >

What was your favourites episodees of JAC?

Name it.

Read more >

We all do love and miss Jackie Chan Adverntures.

I think we should try bring show back! Should do a pettion.

That what need to.

Who is with me?

Read more >
See more >